It's always so interesting sitting down to write these flashback posts. My general feeling about 2014 is that it wasn't a great year. I wasn't very happy for most of it, it was a year of a lot of change in the beginning, a bit of instability and insecurity and an overall lack of satisfaction with where I am in my life. But when I started to make the list of things I wanted to summarize here, I started to realize that on top of everything that I was feeling at times, there were so many incredible moments that tie 2014 together. How can you complain about a life that contains ALL OF THIS? Not just trips and events, but all of these people and all of this love and support? This is truly an amazing life.
If there is a theme to 2014, it was celebration. I rang in New Years last year with people that are more family than friends. I grew closer to an amazing group of women, and we continued our bi-annual tradition of vision board parties fueled by wine and laughter. There were work parties and happy hours with coworkers that have become best friends. I had my Mimosa Mardi Gras housewarming party, Helyn had her housewarming party, and Art & Kathryn had their housewarming/anniversary party. I was there to watch Jen turn 40, Michi turn 50, flew all the way to the OC to sample beer while Mike rang in another year in his 30's, BBQ'd for Rathmann, and toasted to more of Sheela's 20's. Friends joined me for hot springs camping for my birthday, and we all gathered at the wonderful Fernwood for another year camping for Helyn's birthday. The goddesses spent another year at Sunny Cove toasting Beltane. One of my dearest friends Maria got married, and I spent a weekend at Lake Arrowhead celebrating with wonderful people. We sent Jen off to Austin in style, with a hilarious night of dancing. There was a Bacon & Vodka party, a Bunny Bar hop and a Trifecta Tasting of Wine, Cheese and Chocolate. I also had my first summer backyard picnic with my yard crammed full of so many special people…which hopefully becomes an annual event, so I have an excuse to make that sangria again. I baked brownies to celebrate the birth of a special man, we carved pumpkins and stomped through a rainy Halloween downtown, I cooked us a vegetarian Thanksgiving, we decorated a gingerbread house, hung ornaments on my Christmas tree and watched fireworks over the Santa Cruz clocktower to end a full year.
It was also a year of change and momentum. I picked up my keys to my new home on the first and moved just a few days later. I said goodbye to the city that had been my home for 17 years and headed "over the hill" to save my sanity from a grinding commute. It's been hard to adjust to San Jose, but I feel like I've kept Santa Cruz close enough to my heart and been able to spend enough time by the ocean to stay recharged. I love this home. It is everything I wanted when I was looking. I bought my first couch that only I've owned, got blisters from assembling IKEA furniture and got my first Christmas tree in more than 5 years. Bella and I appreciate and enjoy every minute of this place. I loved having a garden that I didn't have to drive to this year, and spent so much time playing in dirt in pots and trying to keep them alive in the drought. It is truly a home, and after so long feeling unsafe in my apartment, it has been incredible to come home to this space. It wouldn't be possible without the job where I truly found my footing this year. I started the year in stride, turning my 90 days in January, and ending the year as Employee of the Year. I feel like I've earned my place, learned a ton and taken every opportunity to contribute that I've been given. I helped launch a new brand, organized a team to cycle in Tour de Cure (which as a bonus I got to do with my fellow Squid), get a bunch of us to pound the pavement for the Giants race, gather us to have a presence at the Mountain View Live street fair all summer, and help raise a ton of money for Second Harvest Food Bank over the holidays.
It didn't seem like a busy year, but wow, there was a lot of adventure. There was photo missions to the Monterey Bay Aquarium, the San Jose Rose Garden, hunting street art in San Francisco, a drive through the Fantasy of Lights at Vasona Park, and a spontaneous road trip to Nevada City to capture fall color. I also spent a lot of time on the coast in Santa Cruz walking for enjoyment and then trekking across town in Wharf to Wharf for my 4th time, this time joined by a lovely friend. There was a lazy week spent in Cancun with Lisa, drinking cocktails in a cabana and marveling at the blue of the water. I went to Austin to see my musical boyfriend Ryan Adams for the first time in a couple of years (in one of the best venues ever), but got to enjoy a few more days with Lisa, get some quality time with Jen in her new home and go on a street art adventure that made me glow. I got to see Ryan two more times, once in San Francisco and once flying all the way to San Diego for 14 hours just to see him again. I also got to go to Paul Simon & Sting with one of my oldest friends, see Tim Flannery and Jeff Berkely in Los Gatos, dance the night away with Tony at Tom Petty, and rock out to Black Keys with Rob. Matt and I saw Cirque twice, capturing Amaluna at the start of the year and Kurios at the end. Kim and I finally got to see Book of Mormon and proved why we are best friends when we spent the entire car ride home tearing it apart in our mutual distaste for something that everyone else seemed to love. There was a SF Giants & SD Padres game with friends, a (forever infamous) SF Giants game in the corporate seats with coworkers, the annual celebration of one of my favorite munchkins at the 4th of July weekend San Jose Giants game, and RAD seats for a really exciting SJ Sharks & STL Blues hockey game with a very lovely lady. I got to visit my parents for a day, experience Holi, see incredible bellydancing, and attend the GLOW festival in Santa Cruz. And then there was an amazing Christmas in London, but a whole separate love letter is due just for that.
There was also finding yoga. I gained 40 pounds in 2014 and while most of the people in my life have been sweet enough to say "what?! no way", as a woman who has struggled with body image issues and anorexia, it has been devastating. I just let things get out of control, and part of me thinks I was looking for a scapegoat reason why I couldn't find love. But now there is yoga…and it has been an amazing force in my life. I did yoga 30 times in 40 days in September and October. And since 2015 is a year of taking care of me, and putting myself and my health first, I feel like things will quickly turn around. I think I need to focus on loving myself instead of loving people that can't love me back.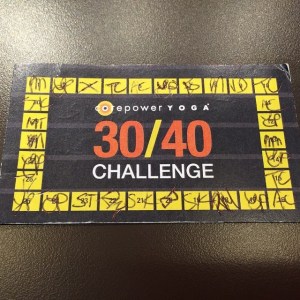 And then there were the moments that don't fit in any big category. Playing on the floor with Kim's littles and hoping some day I can be half the mom she is. Grilled cheese date with my goddesses. Lunch with Lisa. Cocktails with Sheela. Awesome date nights of miniature golf, cuddling, endless standup comedy specials, Penny Dreadful, and so much pizza and mexican food…and always dessert (especially Carvel cake.) Vive Sol lunches with my work bestie. Another year of unconditional love from my furry munchkin best friend. Solo mimosa brunches at Opa and the Campbell Farmer's market.  It goes on and on.
And so, so much support from the amazing people in my life.  I spent a large part of my 20's feeling alone…but my 30's have me knowing the true support for me in this world.  There were so many surprise private message and emails, facebook posts and comments that reflected back to me something that I don't always see in myself.  All of those times people reached out to me, or told me I was worth something, are held in my heart forever.  I've also come to the conclusion that I am comfortable alone.  I have embraced my introvert side, claimed my lunch times for swinging on swing sets and laying in the park, and found myself absolutely fine "wasting" a whole weekend on my couch with my cat.  I may have some issues with my body, and I'm going to work on those, but I really love who I am.  That is continuously validated on a daily basis by some pretty quality people I've managed to attract to my life.  In one of the weakest moments of my year, hearing the phrase "you are a force…" from a woman I admire brought tears to my already weepy eyes.  People are proud of me.  I am proud of me.  I am grateful every day that they see something in me of value, and want to spend time with me…and I like spending time with me.  I am excited for this year.  I think it's going to be a really important year in my life.  Getting out of debt, paying off my student loans, building on the base of this year and diving into unknown adventures.  I can't even guess where 2015 is going to take me…
Happy New Year…Thanks for being in this world with me…let's have awesome adventures together this next year.
Love you lots.